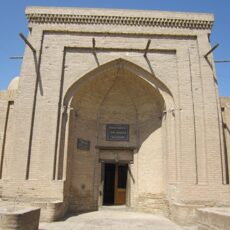 The Abdullahan Madrasah was built in 1855 at the behest of the wife of Kutlug Khan - Murad - Inak in honor of their son Abdullah, who was killed at the age of 17 in a battle with the Turkmens.
On the main facade there is a portal with an octagonal niche flanked by deaf lancet arcades. Seen from above at the madrasah, it is a rectangle with corner towers, stretched from east to west. There are two entrances to the madrasah. Khujras with arches are located end to the courtyard facades. The building is built of burnt bricks, the relief of the main facade is decorated with wings in arches and pilasters.
At present, the exposition of the Khorezm Museum of Nature is located in the madrasah premises. The exposition was created in 1960.