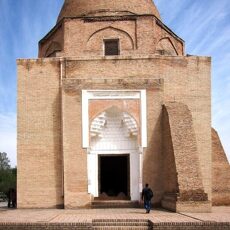 The most ancient, strict and ascetic building in Samarkand can be called the Rukhabad mausoleum. Here you will not find bright and colorful mosaics, outlandish finishes or glazes. The entire structure is made in a majestic but concise style. This approach is due to the fact that the relics of the revered Saint Burhaneddin Klych Sagarji, who was Tamerlane's mentor, are buried here.
This mausoleum appeared in 1380 on the orders of the ruler of Central Asia. Tamerlane deeply revered Sagarji as his mentor and as a deeply religious man. This sheikh stood out among others with his fervent faith, and was also a member of the ancient Order of Dervis. Giving him a special gratitude, Timur decided to build this magnificent tomb. There are stories that Burhaneddin Klykh Sagarji personally asked Tamerlan to bury his remains in Samarkand. Timur promised to fulfill this request and kept his word after the death of the saint. Sagarji died in distant and foreign China, and the emir returned him to his hometown and put the lifeless body of his mentor in the grave.
The structure of the mausoleum resembles a cube in its shape. To enter the tomb, you can use three entrances, which are completely different from other structures of the Timur era, which had a single entrance connected to the portal. The appearance of the mausoleum is rather modest and discreet. The main predominance here is given to the use of burnt bricks. Special attention can be paid only to a huge wooden door for entry, which was made by a rather skillful master. The interior of the tomb is also made in a rather strict form: the walls are decorated with a simple white plaster and diluted with a rare glazed tile.
It is said that the emir treated the grave of the sheikh with great respect. Every time he walked past her, Tamerlane came down with a horse, which was the ultimate sign of respect in those days.
Local legends say that Burhaneddin Sagarji always had one very rare and valuable relic - a small box with hair with a beard of the great Prophet Muhammad. During the construction of the mausoleum, the box was walled up in the dome. After this the tomb of Burhaneddin Klykh Sagarji became a place of pilgrimage for many Muslims and became the most revered temple in all of Samarkand.
Every tourist or guest of this ancient city with a long history can find this mausoleum on Central Registan Street.