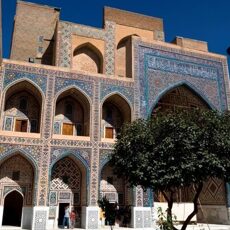 Sherdor madrasah, built in the seventeenth century, is part of the architectural complex of Registan square in the city of Samarkand, which belongs to the famous historical monuments of Uzbekistan. The construction of the Sherdor Muslim educational institution was carried out by decree of the Samarkand ruler Bahadur under the direction of the court architect Jabbar Abdullah.
The madrasah is built on the Eastern side of Registan square. According to the architect's idea, the front facade of the madrassah building should mirror the front side of Mirzo Ulugbek's madrassah, the main parameters of which were laid down in the basic construction of the Sherdor madrassah. But the author made a mistake by not providing for a change in the calculation of the zero level of the Registan square, which has been rising for two hundred years, reaching a two-meter mark by the time construction began. As a result, the building of the Sherdor madrasa is more squat in comparison with the Ulugbek madrasa.
Upon completion of construction, the madrasa was named Yalangtush Bahadur, which did not take root among the residents of Samarkand. The religious school received its current name Sherdor, which means "having tigers" or "having lions", thanks to a mosaic panel that decorated the tympanum of the main entrance. The pictorial image shows the hunting scene of a fairy-tale animal that looks like a tiger with a lion's mane. The story, captured on the Central portal of the madrasah building, later became the national emblem of Uzbekistan.
During its existence, the madrassah remained a significant spiritual and educational institution, despite the fact that its status was inferior to the madrassah of Mirzo Ulugbek and many Metropolitan educational institutions. Despite the impressive size of the building, the Sherdor madrasa could accept no more than fifty people at a time. Among the students of the spiritual school were such famous personalities as the theologian Naqshbandi and the famous philosopher Shigabutdin Marjani.
For many years of its existence, the building of the spiritual school of Sherdor withstood the blows of several devastating earthquakes that occurred in the nineteenth century. The building withstood the onslaught of the elements, received great damage, the arched arch of the Central entrance was deformed, the minarets skewed, and the facing mosaic collapsed in many parts of the walls.