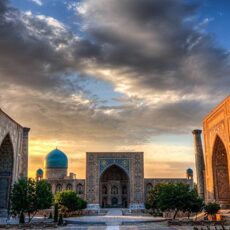 Registan is an ornament of Central Asia, one of the most magnificent squares in the world, which is located in the center of old Samarkand. Everyone who is lucky enough to be here can not remain indifferent: the greatness and beauty of Registan cause everyone, without exception, a sense of delight.
There is a legend that from the beginning of the 15th century to the beginning of the 20th century there were public executions on the square, and that the blood was better absorbed and not visible, the earth was covered with sand. That is why the square was called Registan ("Rege" - sand and "Stan" - the place) - a place covered with sand. Among other things, it was the place where people gathered, because this is where all the royal decrees were read out, and before reading the trumpet exploded loudly. But do not forget that initially, in the early 15th century, the square has not yet had any of those unique monuments of medieval oriental architecture, which now surround it on three sides in the form of a beautiful architectural ensemble.
Registan is a huge square paved with burnt bricks and cobblestones, on which stands an ensemble of three majestic medieval universities included in the UN World Heritage List in 2001. The center of this ensemble, which is considered one of the greatest structures of the Islamic world, is the madrassah Tilla-Kari, the madrassah Ulughbek and the madrassa Sherdor on the right.