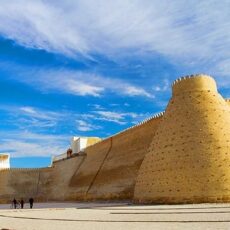 The impregnable fortress of Ark in Bukhara is a real symbol of power and immutability: 4.3 hectares of the internal area represented a city in a city. Own garrison, all necessary communications and layered defense - the Bukhara rulers knew a lot about ensuring their safety. According to the assumptions of historians, the Ark fortress was founded in the 3rd – 4th century BC on the site of the first organized urban settlements.
Apparently, the original purpose of the building was to house the residence of the city's ruler and protect the spontaneously formed Registan shopping area — at any time, the fortress gates could open and take under their protection a considerable number of residents and merchants.
This happened more than once — the Ark fortress was constantly strengthened, rebuilt and successfully helped to repel the attacks of neighboring rival khanas. At the same time, it is known for certain that it fell only once before the XX century: in 1220, it was captured by Genghis Khan, whose army caused huge destruction and desolation of Bukhara.
Nevertheless, the Ark fortress was gradually restored: starting from the XV century, being the cultural and scientific center of the city, the Emir's residence provided the best conditions for the work of the most famous philosophers, mathematicians, doctors and creators of the Muslim East. Among those who worked in the local library was the famous physician Avicenna and the legendary Persian poet Omar Khayyam.
In addition, The military capabilities of the Ark fortress also grew. After its next reconstruction and strengthening in the XVI century, it turned into an almost impregnable citadel that can accommodate more than 3 thousand soldiers in the courtyard.
The unapproachable Ark remained until the early 1920s, when the Bolshevik troops led by Frunze successfully completed the Asian campaign to annex the future Uzbek SSR. The bombing of the fortress with the last Khan of Bukhara, Alim Khan, who took refuge in it with the troops, almost completely destroyed the Eastern part of the Ark. After that, the impregnable fortification was taken — for the last time in its history.
Today, the Ark fortress is a Museum complex where you can get acquainted not only with the ancient history of the most famous fortification of Bukhara, but also with the role it played in the XIX–XX centuries. And these roles, by the way, were many — from the harsh Emir's prison with a debt pit to the ceremonial hall in which the new rulers of the great city were "crowned".