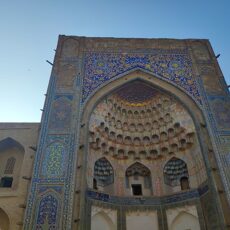 This magnificent structure was built in 1658, that is, almost 200 years later than the famous madrasah of Ugulbek, nevertheless, these two buildings form a single architectural group with each other, completely different in style. The unique skill of the architects of that time is reflected in all its splendor in the external and internal appearance of the religious educational institution named after Abdulaziz Khan. The Peshtak portal, located in the building, is striking in its brightness and size.
The patterns that adorn the Madrassas are very complex in execution, intricate, the ornament is catchy and unique. If you look closely, among the many intertwining drawings, you can see the silhouette of a Semurg bird or the shape of a Chinese dragon. This theme can be traced in connection with the fact that Bukhara has been closely connected with the great Silk road for a long time.
All sorts of decoration methods that were only known to artists and architects of that time were simultaneously intertwined in the decoration. Here you can find the finest marble carvings, majolica mosaics, brick tiles, and all kinds of paintings (ganch, paint on the plastered surface). There are even areas richly decorated with gold (kundal).
Everything in the internal and external appearance of the madrasah breathes luxury. A couple of mosques (winter and summer) are decorated expensively and richly. The first of them (winter) is located West of the Central corridor, and the second is located on the yard territory.
The study room (darshana) also fascinates with the extraordinary paintings on the walls. Blue patterns applied to a white background look very organic. The plot of these ornaments is landscape, but the execution resembles patterns that are traditional for the masters of China or India.
But there are still unfinished corners in the madrasa. One part of the courtyard is not decorated, as well as the facade on the left. This was no accident. Historians say that once the ruler was absent from the country, and at this time there was an uprising and a coup d'etat. In connection with such events in the state, the construction of madrassas was suspended, and there was simply no one to complete the finishing work.