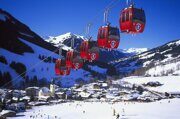 Amirsoy ski resort covers an area of about 900 hectares in the Bostanlyk district of Tashkent region. It provides for the creation of a network of ski slopes of varying degrees of complexity with a total length of about 21.3 kilometers, 7 cable cars, a snowboard Park, a sports school, residential buildings and other resort infrastructure. The total cost of the project is more than 100 million euros.
The first stage of the project, which is planned to be commissioned in December, includes the construction of two cable cars with a length of more than 3 kilometers, 13 ski slopes of varying complexity with a total length of 12.3 kilometers, two artificial lakes, a helipad, an artificial snow formation system, and winter tubing.
It is also planned to build a town of 21 buildings in the style of "Chalet", two restaurants, an instructor school, a multifunctional center with rental ski equipment and other engineering and communication facilities for the full functioning of the complex in the winter of 2018-2019.
Already purchased and is in the process of delivery of snow-compacting equipment (snow groomer). For this purpose, about 30 million euros will be allocated, more than 300 jobs will be created.
In addition, during the visit of the Deputy Prime Minister of the construction site, the world leader in the production of cable cars-the Austrian company Doppelmayer demonstrated made to the top of the resort (2292 meters) technological road, where the upper station of the gondola eight – ropeway, access roads to 19 supports and pouring concrete bases to them. The launch of the test tests of the two cable cars is scheduled for October this year.
Also discussed and solved the problematic issues that require immediate solutions for the timely launch of the first phase of the project, in particular the acceleration of the construction of access roads and high voltage power lines.