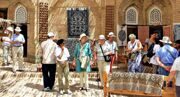 "Uzbekistan attracts thousands of tourists every year, but these figures do not fully reveal the tourism potential. Therefore, the country is carrying out reforms to accelerate the development of this sphere. Summarizing the results of the first half of the year, we can say with confidence that these actions have a positive effect. Thus, the total figure for the number of foreign citizens who entered the country almost doubled compared to the same period in 2017 and amounted to 2 688 962 (an increase of 91.6%), " the Committee noted
It is important to note that the number of tourists from countries for which a visa-free regime was introduced has significantly increased:
1. Turkey-31 966 (+95,6%)
2. Japan-6200 (68.1%)
3. Israel-3615 (+86.2%)
4. Indonesia-750 (more than three times)
5. Singapore-424 (more than 2.5 times)
Separately, it can be noted that in June there was an increase in the number of citizens from the Republic of Korea (57.5%) and Malaysia (2.6 times), although until may 2018 there was some decline.